Okay so this is a new recipe I found on Allrecipes, my favorite recipe site. I would say this isn't the typical weeknight meal, but my schedule is light on Mondays and Wednesdays so I go all out for dinner. Oh the life of a college student! This is my first time so I didn't photograph everything, plus I enlisted a hungry Beau's help so he was a little impatient when it came to the food photoshoot! Anywho, lets get to it.
Here's what you'll need:
First you'll want to dice up your onion to a fairly small size. Then heat up some oil in your skillet and cook the onion until translucent. Then add your garlic and saute it for a minute or so.
Then you'll want to add your hamburger meat and cook it until fully browned. After its done, set it aside and let it cool. I stuck mine in the freezer to speed up the process. A hungry Beau calls for drastic measures! I'm sure yall can relate.
While doing this, cook spinach according to package directions. I just threw mine in the microwave for four minutes. When spinach is done, mix with hamburger and let cool.
Next you're going to wanna make the cream sauce. Meanwhile start cooking your manicotti. Only cook it for about half the recommended time (approx. 4 mins), then drain it and cover the shells back up with cold water. This stops the cooking process and keeps the shells from cracking.
For the sauce, melt butter in a small saucepan, once melted add flour and chicken bouillon. Cook this until bubbly. It will appear dry, dont worry! Add half and half and bring to a slight boil. Let boil for one minute stirring frequently. Set sauce aside away from heat to thicken.
Next spray your baking dish with cooking spray and spread some spaghetti sauce on the bottom of your baking dish, about a 1/4 cup should do it. I just used some leftover, homemade spaghetti sauce so its meaty; yours can be from the can. Meanwhile, have your oven preheating at 350.
Next stir ricotta cheese and beaten egg(s) into spinach hamburger mixture. Then stuff into shells. Sorry I'm doing this with my hands. If you have a better way please share. I know I could do it with a pastry bag, but this filling was a bit too chunky for it.
Next you can either follow me or the directions in the link at the top. I just did spaghetti sauce first because thats what I put on bottom. So cover remaining shells with spaghetti sauce.
Then cover shells with white sauce, being careful to not mix the sauces. Although I don't know what harm it'd do. I think its just for presentation. I let my sauce sit a bit long so it wasn't as thin as I'd like it to have been but it cooked all the same.
Bake uncovered at 350 for 40 minutes, sprinkle with Parmesan and continue cooking for 10 minutes. Sorry I don't have a photo of the finished product, me and Beau were pretty hungry after all this prep work. Next time, I promise! But just so you don't have to suffer here's a picture of someone else's.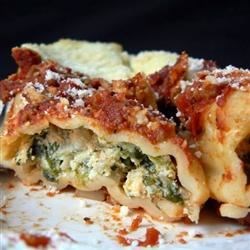 YUMMY!